The Lunar New Year (LNY) represents one of the most important holidays in Chinese culture. It's a moment of joy, a time when people celebrate through dances, decorations, fireworks, and, of course, family gatherings. Grandparents, parents, kids, all reunite to create new priceless moments, raising a glass to the promise of good health and prosperity.
In honoring the Year of the Tiger, which has just started on February 1st, Coca-Cola joined hands with WWP company Ogilvy Shanghai to feast the public's eyes with a heartwarming story that blends Chinese traditions with modern storytelling. Directed by Yves Geleyn via production company Hornet, the story showcases a family of lovely tigers coming together to celebrate the LNY.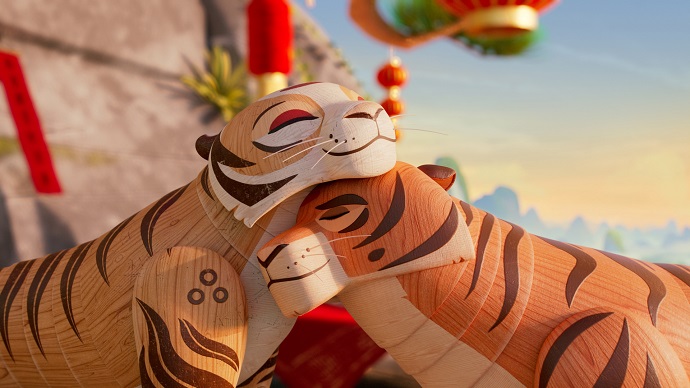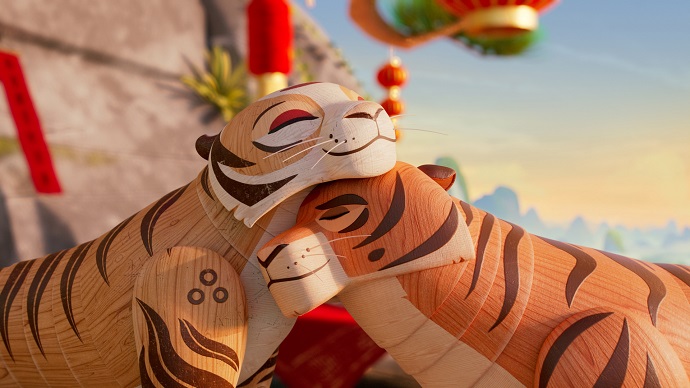 Via the simple but highly emotional ad, the director carries the audience in a dreamy place, with landscapes inspired by the Tianzi Mountain and karst topography of Guilin. Here is where a family of tigers lives and, as the tradition dictates, they decorate their place to reflect the magic spirit of this festivity. While preparing the dinner table, the youngest of the family appears.
His mother and grandmother express their joy at the sight of the son, yet the father makes everyone think that his son's visit doesn't impress him, signaling that they have been distant lately. However, his heart says otherwise: An old photo from when his boy was just a young tiger makes him smile. The father keeps having the same attitude towards his son. One can almost feel the tension between the two but luckily, a bottle of Coke, strategically placed by the mom on the table, breaks the ice. Will the two be able to find the common ground and reconnect with each other? Hit play on the video below to discover how the story ends…
Everything — from the vibrant characters, which are brought to life in textural and sculptural CG, to the landscape that was carefully contoured, allowing viewers to easily guess where the story unfolds — was built to make sure that the one-minute-long video captures the authentic emotions of the country around this time of the year.
"One of the best aspects of this project is that almost everything was done in-house in Hornet's studio. It's always such a pleasure to have such a close-knit & talented team of artists working together. And I'm very proud of the result — a nice mix of almost stop-motion style CG (led by Natalia Perez) and graphic & painterly texture," explains Yves Geleyn.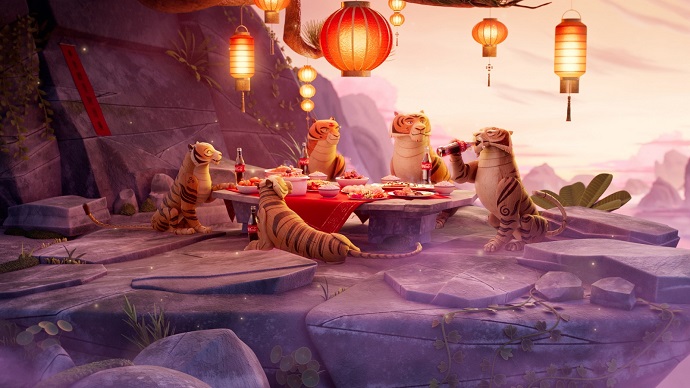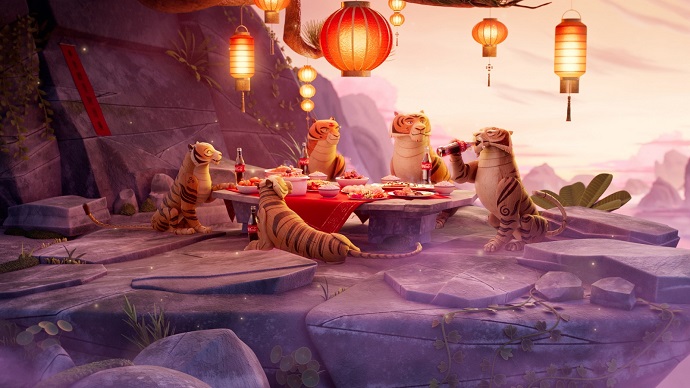 Amid modern society and with the rapidly changing social norms associated with the pandemic, people couldn't find a common ground. As members of families unintentionally drifted apart, the gap between the young and older generations started to widen. To bridge the gap, Coca-Cola's LNY-themed ad spotlights togetherness. The integrated "Real Magic Lunar New Year" campaign champions intergenerational bonds and defines the bottle of Coca-Cola as the glue that keeps people together.
Credits:
Client: Coca-Cola China, Ella Liu, Cloe Von Krause, Charlotte Sng, Elsa Gu, Du Jing
Agency: Ogilvy Shanghai
Production: Hornet / Unlisted
CCO: Reed Collins
GECD: Fei Wei
GCD: Mike Pearson
CD: Jimmy Wang, Sascha Engel
Producer: Alice Chu
Accounts: Ole Luk, Queenie Shou, Lyia Chen, Adrian Xing
Strategy: Arvind Srivastava, Arjun Vedanayagam
Director: Yves Geleyn
Managing Director: Hana Shimizu
Head of Creative Development: Kristin Labriola
Producer: Hanna Smith-Ide
Production Coordinator: Madeline Metolius
Senior Editor: Anita Chao
Assistant Editor" Cole Bannick
Storyboard Artist: Stephanie Dere
Environment Design: Benjamin Plouffe
Character Design: Alejandro Diaz
Matte Painting + Design: Tristan Ménard
Junior Design Support: Kaycee Nwakudo, Hannah Kim
CG Lead: Natalia Perez
CG Generalist: Angeline Rivera
Models: Constance Benson
Additional Models: Cecilia Puglesi
Rigging: Josh Planz
Lighting & Rendering: Cody Chen, Mohamed Sinbawy, Nicole Noel
Compositors: Cody Chen, Mohamed Sinbawy, Nicole Noel
Animators: Hee Jin Kim, Tom Shek, Meg Oswalt
Original Score/Sound Design + Mixing: Ambrose Yu