Via its "Code a Satellite" program, the interactive online learning platform BYJU's FutureSchool gives access to ambitious kids who dream about exploring the Solar System one day a chance to actually have a sneak peek at what happens beyond the Earth from the helm of a real satellite. Designed and built by real aerospace engineers, the AYANA satellite allows future space explorers to access its onboard computer from the comfort of their homes.
But before embarking on this spaceship, students must follow some classes which, in turn, will equip them with the skills they need to run experiments and explore outer space. With direct access to the real-life operational satellite, which is scheduled to be launched in summer 2022, the aspiring kids will be able to code and analyze space missions like detecting stars and constellations, read the Earth's thermal radiation, or detect fires from space , amongst many other celestial adventures.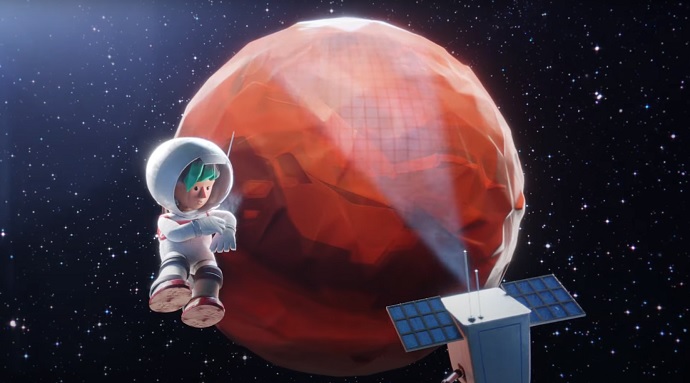 Wanting to promote and depict how fascinating the coding program is, the school tapped into the creative animation and design studio LOBO's talent, asking the team to craft an ad that puts a child's curiosity about the universe's endless possibilities in the spotlight. The spot had to resonate not only with parents and students (who must be in grades 1–12 to be able to enroll in the program) but also had to tackle the gender disparities in STEM and girls encourage to pursue a career in science.
The resulting video, titled "If I Had a Satellite," is a 30-second-long animation, having as protagonist a lovely young girl, who got her name after the first woman to go to space, cosmonaut Valentina Vladimirovna Tereshkova. The engineer orbited the Earth 48 times and spent around three days up there, all while flying solo — well, not completely alone, as she had the Vostok 6 spaceflight to keep her company in her mission. "I achieved my childhood dream of the sky," says Tereshkova, which can also be said about our Valentina, who ventures through the cosmos having lots of fun while her trustful companion, the friendly AYANA satellite, stays by her side.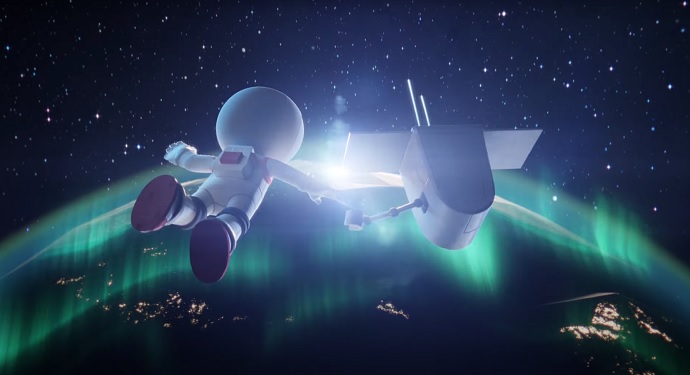 The video starts with Valentina in her bedroom while working on her laptop. But as her headphones turn into an astronaut helmet, her childhood bedroom — which is adorned with space-themed decorations — transforms into a cosmic landscape. She is now able to discover the wonders that lie beyond the Earth, glide through the stars, and even analyze the weather on Mars.
She is not alone in this adventure, as the friendly satellite is there to offer support to her while in outer space and even help her "send a postcard" — probably alluding to one of the missions the students will enjoy as part of the program. The story unfolds as the little girl sings "If I Had a Satellite," with lyrics written by BYJU'S FutureSchool's Global Creative Director, Michael Zulawinski, and composed by TikTok lo-fi phenom "Little Monarch." The acoustic accompaniment was carefully selected to empower women to pursue a career in STEM.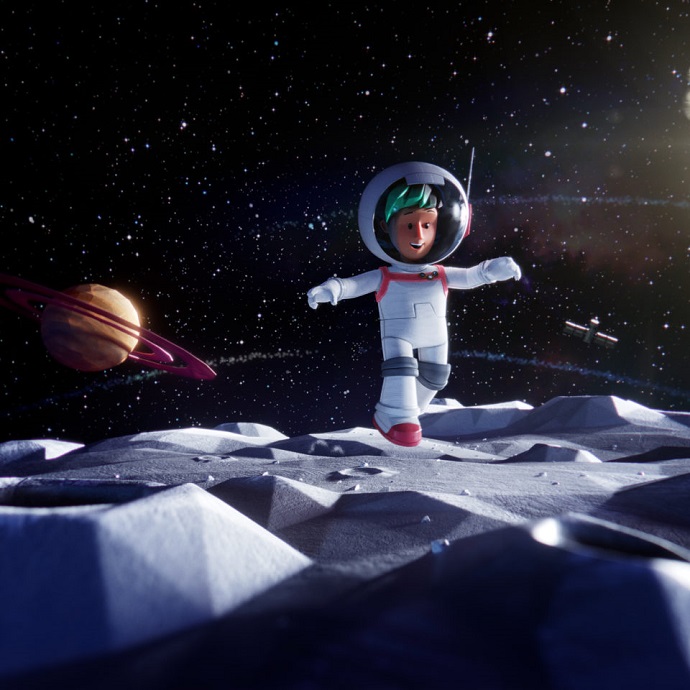 "This journey began with the intention to create something memorable that would resonate with kids and parents," explains Zulawinski. "We're thrilled to have found incredible partners in both LOBO and 'Little Monarch' who have helped bring our vision to life. Our hope with this ad is to build excitement and foster curiosity for young adventurers who can now explore the universe from the comfort of home."
LOBO Director, Aron Aguiar, continues: "BYJU'S FutureSchool's campaign and the young audience gave LOBO room to push creative goals with heartfelt, wondrous animation. We're incredibly proud of the end result and can't wait to see it out in the world (and beyond!)."
Kids are curious by nature. But probably so are you, now that you have read about BYJU's FutureSchool campaign to promote its space-themed coding program. To quench your curiosity on how Valentina's space mission unfolded, make sure to hit play on the video below.
Credits:
Client: BYJU's FutureSchool
Production Company: LOBO
Director: Aron Matschulat Aguiar
Executive Producer: Luís Ribeiro
Head of Production: Clara Morelli
Producer: Paula Nobre
Post-Production Producer: Regina Yokota
Storyboard artist: Libero Malavoglia
Concept Artist: Katan Walker
CG Supervisor: Olavo Chagas
Modeling Lead: Tiago Mesquita
Modeling: Adam Pierre, Aikau Oliva, Max Beggs, Natan Zuanaci, Rhenan Fidelis
Rigging: Felipe Gimenes, Rafael Dias, Rafael Shiva
Layout Animation: Rafael Vinicius
Animation Lead: Michel Maron
Animation: André Lorenzini, Camila Fazolin, Larissa Paz, Nicolás Taró, Michel Maron, Raphael Silva, Rafael Vinicius
Look development: Adam Pierre, Aikau Oliva, Daniel Avesani, Max Beggs, Olavo Chagas, Tiago Mesquita, Victor Trovato
Lighting & Render: Diego Avesani, Victor Trovato
Color Grading: Leandro Pena Lover, Leticia Blanco
Composition: Leandro Pena Lover
Motion Artist: Ricardo Filomeno
Matte Paint: Montalvo Machado
Supervision 2D Animation: Raul Vanussi
Producer 2D: Larissa Lie Uehara
2D Animation: Genoviz Pagani, Márcio Perrela, Raul Vanussi, Hugo Takahashi
Edit: Pedro Falcone
Copy: Isabela Balbo