Even though more men are dividing the household chore list between them and their wives, an equal share of the responsibilities is far from being ideal. Domestic duties should have no gender, yet women are still taking care of most of the household tasks. In fact, 83% of ladies confess they feel their partners don't treat them as equals when it comes to such duties. On the other hand, 73% of men say they did share the household chores in the past when living with other men or roommates. So "If men can share the load equally with other men, why not with their wives?", wonders the P&G-owned detergent brand Ariel India.
Specially designed to offer high-quality laundry cleaning products, the brand prides itself on having a great reputation for removing stains. Now, in its seventh year of the #ShareTheLoad campaign, Ariel continues the fight to remove the gender gap in homes, by reminding people that society can achieve true equality when members of the same family #ShareTheLoad.
Developed with the help of BBDO India, the new episode of the campaign titled "See Equal," targets men, hoping to get them thinking about how their actions at home affect their female partner. The #SeeEqual video, the fifth of the series, presents the story of a couple visiting their new neighbors — a visit that ends with the spouse opening up to her husband regarding household duties.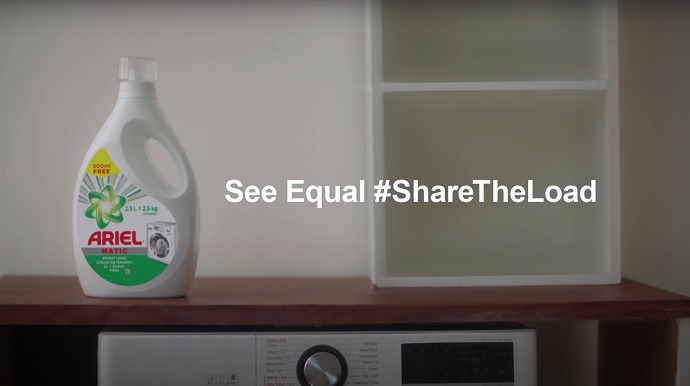 Despite her busy schedule, the husband, Kamal, doesn't give his wife, Seema, much of a choice: As he rings on the neighbors' door, two men greet them warmly, inviting the couple to stay over for breakfast. While the two — who could be roommates, friends, brothers, or a couple themselves — prepare the food, the husband and wife sit on the couch, each inspecting differently what happens around them. Kamal looks at the house, while Seema is impressed by how Sid and Aman divide their tasks.
Speaking about the short video, Hemant Shringy, Chief Creative Officer, BBDO India (Mumbai) explains: "It's written to be a hard-hitting retelling of a couple's visit to their neighbors' house. The woman provides emotional evidence of how the husband has made her feel unequal by simply recounting the events of one evening. Watching two men living harmoniously and sharing responsibilities equally triggers the thought in the woman's mind that two people can live together without one person carrying all the load. Not that she needed this event to become aware of the inequality in her home, but when you see something playing out in front of your eyes, the truth becomes more tangible. Which is why this year's movement focuses on 'seeing' and tries to bring a simple truth to life, that when we see equal, we share equal."
"The film is fully reflective of the reality of today's times, where the woman refuses to accept inequality in her marriage. Research confirmed this. 88% of women believe it is time to talk to men about doing their share of household work equally. There is a sense of restlessness, and impatience in women today about the pace of change. So, this film is also a means to encourage conversations to truly move us towards an equal tomorrow," continues Josy Paul, Chairman and Chief Creative Officer, BBDO India, who pointed out to film's change in tonality. "This time, it's the woman who speaks for herself. It is the woman speaking her mind and sharing her point of view."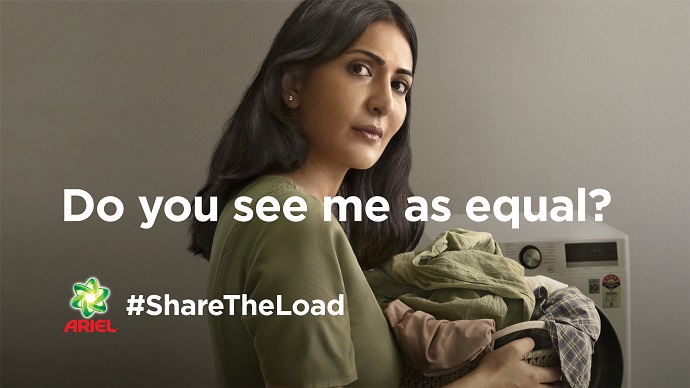 "With Ariel #ShareTheLoad, we strive to trigger meaningful conversations that will help drive positive change. With #SeeEqual, we want to address years of unconscious bias and conditioning, that may be coming in the way of us all sharing the load," Sharat Verma, Chief Marketing Officer, P&G India, and Vice President, Fabric Care, P&G India.
The #ShareTheLoad award-winning campaign has started back in 2015: In the first episode, the brand has raised a very important question: "Is laundry only a woman's job?" Then, in 2016, Ariel continued the conversation with the "Dads ShareTheLoad" initiative, highlighting the wrong messages current generations send to the next ones. In 2019, the company addressed sons with the "Sons ShareTheLoad" episode, asking people if we educate our sons the same way we teach our daughters.
In 2020, Ariel fought for women's well-being via the "ShareTheLoad for Equal Sleep" initiative, an episode through which the brand raised awareness about the unequal division of household tasks and how this impacts their sleep. With the "See Equal" initiative (and the latest one), Ariel shows that it continues to ask pertinent questions to make the audience think, introspect, and, of course, act.
Credits:
Client: Ariel India
Creative Agency: BBDO India
Chairman & Chief Creative Officer: Josy Paul
Chief Executive Officer: Suraja Kishore
Chief Creative Officer, Mumbai: Hemant Shringy
Senior Creative Director Art: Balakrishna Gajelli
Associate Creative Director Copy: Karan Nair
Script Writer: Hemant Shringy
Art Director: Omkar Rachha
GM and EVP, Mumbai: Priyanka Rishi
Client Services Director: Omar Khan
Account Manager: Varun Shah
Agency Producer: Krishna KV
Production house: Ransom
Executive Producer: Salil Khurana, Suhana Sharma
Director: Shimit Amin
PR Partner: Ketchum Sampark
Digital Partner: Kinnect Media Pvt. Ltd.
Media Partner: MediaCom India
On-ground Partner: Encompass: A VMLY&R Company