Faithful to its name, the Mondelez-India-owned brand Cadbury Perk teamed up with the creatives at Ogilvy India for a campaign that will likely make netizens burst into a laughter — or, at least, put a smile on their faces. In line with the brand's proposition of "Take it Light" and hoping to weaken the cancel culture phenomenon, the company launched the #PerkDisclaimers initiative that satirizes cancel culture.
Given that "people today have become overly sensitive and take offense over the smallest things," the quirky brand's new ad seeks to sweeten netizens' touchy spirit, "sabotaging" their presence on the web with some crazy disclaimers popping up right before playing some trending videos on YouTube. The campaign sees the company using YT's pre-roll ad spots in a clever way, turning them into disclaimers that warn users about the "controversial" content they are about to watch.
For instance, a disclaimer addresses the "graphic violence against carrots" in a cooking video. Another video captures a couple seizing the moment in the rain which, of course, "might be triggering for viewers facing a water shortage today." Obviously, these aspects are anything but controversial.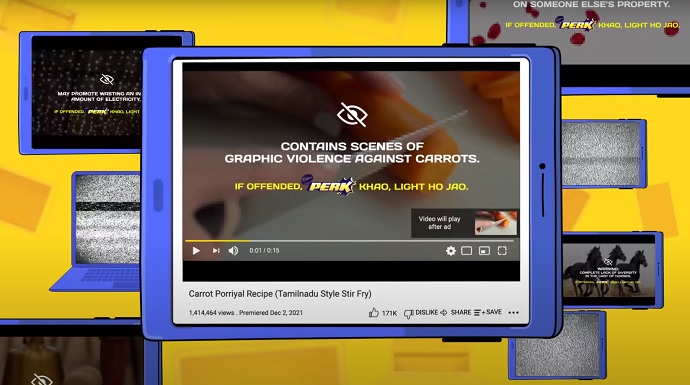 "'Cadbury Perk Disclaimers' is our attempt at addressing the growing cancel-culture, especially the most trivial things posing as strong triggers — right from someone's hair or holiday plans. Whether it's a website or a post on Instagram, this culture has augmented the use of disclaimers, and we aim to parody this trend through offbeat disclaimers calling out the frivolousness of some of these issues. Thus, just like Cadbury Perk, urging everyone to 'Take It Light'," comments Anil Viswanathan, Vice President – Marketing, Mondelez India.
Sukesh Nayak, Chief Creative Officer, Ogilvy India, adds: "These days, we get triggered by anything and everything. Perk has a history of work which has always stood for keeping things light and fun. So, our idea is quite fun and modern, adding a fun warning before any video that you may watch."
Are you curious about "How did [they] do this?" The team analyzed the most popular films and searches on YouTube, creating mock disclaimers to match the videos' content and then using back-end automation to customize them for other similar videos. "Ensuring things remain light, no matter what," Nayak continues.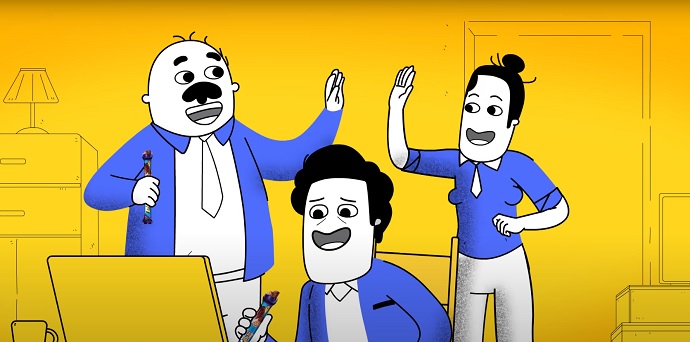 "To give the campaign scale, we needed to find the content most watched by the youth. Since this could mean a massive number of videos, we leveraged the power of AI and automation to create custom ad versions and them against the video which suited it the most. We have created a custom API with Google that would help get a pulse on the most trending videos on YouTube. Custom bumpers would then be created and played before top trending videos on YouTube," concludes Shekhar Banerjee, Chief Client Officer & West Head, Wavemaker India.
Conceived to "lighten up" Indians, the campaign kicked off with a video — currently visible on YouTube — showcasing the brand's "strategy" to add some fun to this online craziness that people fuel with boycotts because of something they found as being offensive. You can watch the ad video below, but we should warn you first: Cadbury Perk's spot contains scenes that viewers might find hilarious.
Credits:
Client: Mondelez India Foods Private Limited
Brand: Cadbury Perk
Creative Agency: Ogilvy India
Chief Creative Officers: Sukesh Nayak, Kainaz Karmakar, Harshad Rajadhyaksha
Creative Team: Karunasagar Sridharan, Kaustubh Basankar, Jugal Joseph, Nishigandh Dhende
Associate President & Integrated Brand Team Leader: Prakash Nair
Account Management: Beenu Kurup, Ankur Gupta, Khyati Wali
Account Planning: Ganapathy Balagopalan, Samhita Chaudhuri, Dhara Pujara
Media Agency: Wavemaker
Media Team: Shekhar Banerjee, Naina Shewakramani, Harsha Vardhan Desireddy, Sabera Kapasi, Nikhita Arora, Sagar Parekh, Pratik Dawda, Harshil Vora, Chrysel D'mello, Jitin Shirke, Chintan Thakker, Aniket Ghanwatkar, Sharan Shethury, Apek Kobe , Dhaval Pawar, Yatin Desale, Pankaj Khamkar